600-Foot Crop Circle Of Jellyfish Appears
A pattern found on the fields of Berry Croft Farm in Kingstone Coombes, Oxfordshire is garnering a lot of attention. It is an amazing 600-foot image of a jellyfish, which is three times the size of most crop circles.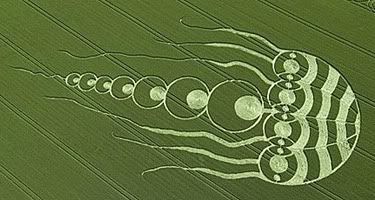 Some 20 new crop circles have been spotted since April. Another is a 150-foot dragonfly that appeared in a barley field near Yatesbury, Wiltshire.