Before you even begin writing your manuscript, it is vital to know what genre your work falls into. Once you establish the genre, then it will be easy to determine your target audience and ultimately, the potential of a published book.
It also helps to know if the subject you are writing about is popular. A little research on the Internet by Googling keywords and checking the most popular books at such sites as Amazon.com and Barnes & Noble should give you a good idea as to what's hot and what's not. Other ways to determine what people are reading is to join writer's sites, such as Gather.com, read book reviews, writing magazines, newsletters and e-zines. In your own town or city, join a writer's group and talk with others in the writing and publishing field.
The point of all this is to ensure that there is a market for your work and your not wasting your time. However, it is also important to write not only about what you care about, but also what you have some expertise in. For instance, if you're writing a self-help book, you need to have valid personal knowledge about the subject matter. If you're a history buff, you might want to try your hand at historical writing. If you're the comedian in the family, try writing humorous material.
Your writing will ultimately reflect 'who you are,' so make sure the reflection is accurate.
Setting Goals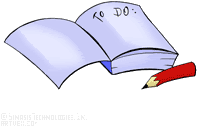 Before you begin writing, you also need to establish a game plan – how much time you will devote to writing each day, how much time for research, how far along you expect to be in two weeks, a month, three months and so on. Set a realistic target date for completion on your calendar, as well as when you will begin looking for an agent, a publisher and so on. But why should you bother doing this? It has been shown that most people find it motivating and will work to a set deadline. However, if you don't quite make it, don't beat yourself up. Just set another end date.
With all of one's daily concerns and commitments, it is important to prepare a schedule that fits with everything else. It is also important to realize the stressors in your life and work to remove them. One cannot write freely when the heart and mind are in knots. Don't frustrate yourself by trying to write amid the hustle and bustle of family members and/or children. Find a place, such as a spare room or attic where you can spend a few hours during the day in blissful quiet when you write. You will find that your muse is much easier to hear under such calm and relaxing conditions.
Write Any Genre


Learn to write by analyzing numerous examples of articles, stories, novels, letters, poetry, instructional and promotional material, business writing, and so much more. How to write any genre, and why, made easy to understand. Writing contests occasionally offered.