Dress your Dog in Style this Summer
by Martha Jette
(H)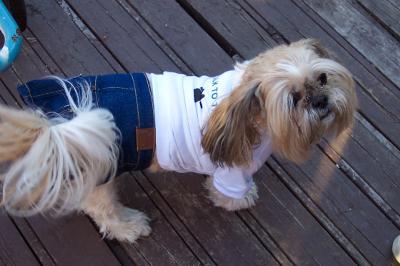 My dog Angel wearing a white T-shirt that says Talk to the Paw and a denim skirt.
With the warmer weather more Toronto dog owners will be taking their pets out for walks in the neighborhood, downtown and at local parks. While they show off their summer style, their canine companions can show a little pizzazz of their own.

There are so many styles to choose from for dogs today – from the $10 outfits you can find at WalMart, Zellers and other such stores to the more expensive items like rhinestone collars, satin tuxedos, fancy gowns, genuine leather caps, mink coats and leashes with Austrian crystals ranging from $50 upwards of hundreds of dollars.

But why do dog owners go to such lengths to deck out their pets in style? A 2004 study by the American Animal Hospital Association found that "94 per cent of U.S. pet owners believe their pets have human traits." If they are so closely human, then perhaps they deserve to be treated like one.

The pet business saw 43.2 billion in pet product sales last year and expects that number to rise this year. That number includes over-the-counter pet medicine, food, veterinary care, grooming and boarding. However, the amount spent on pet accessories and clothing continues to rise.

Poochtini Company, a Toronto provider of pet clothing, has everything from pants, suits and raincoats, to wool sweaters and designer clothes for female canines. Bellagio Pets offers dazzling dog jewelry such as the Hepburn Dog Necklace and one made entirely of pearls.

Hartman & Rose of Ancaster provides its top of the line products to such places as HomeSense, My Pet Boutique in Toronto and online at Dog Collars Boutique and Bitch New York.

More Toronto Pet Clothing and Accessories:

Timmie Doggie Outfitters

Beanies & Belvedere

Dog Fashion Show Toronto



Join in and write your own page! It's easy to do. How? Simply click here to return to Pets & Animals.