When Linda Kraan-Benson of Hamilton, Ontario was just 6 years old, an angel "shrouded in light" appeared in her bedroom and smiled at her with what she called an "endearing look."
What happened next both amazed and surprised her.
"He sat on the end of my bed and… he had wings," she recalled still with a child-like wonder that an angel would actually visit her.
Now 59, Linda said she turned and called out to her grandma.
"I wanted my grandma to see him," she said but added that she could not find her voice. "I sat up in bed and he was still there."
The angel then put his fingers on Linda's temple and said, "The time will come."
The little girl simply replied, "Okay."
Linda was mystified but was not frightened by her angel visitor.
"At that time, I didn't understand it," she said.
Then she lied down and pulled the blankets up around her. When she peaked out from them, the angel was still there and eventually, she fell asleep.
Linda called this experience a 'vision' but it certainly sounds like it was much more than that since the angel spoke and interacted with her. When I had a vision as a child, I saw it on what appeared to be a television screen high up in the corner of the room.
In both cases, however, a message of hope was related at a time when it was most needed. In my case, I was an orphan and the vision directly preceded meeting my future adoptive parents. In Linda's case, the message came at a time when she suffered at the hands of abusers in her life.
It is amazing that God would send angels to comfort his little ones!
Linda would have many more "visions" during her childhood years, as well as the appearance of a guardian spirit named Marrisa Michelle. This little spirit came to her one day when she was 8 years old and having a tea party with her dolls.
"I looked up and there was this little girl," Linda said.
She described her as a French girl about her age wearing a school blazer, pleated skirt and a beret.
"I asked if she could stay a while," and she did. "She told me she was a child of God," said Linda. "She told me God had sent her so I wouldn't be lonely and wouldn't be scared anymore."
From that point on, Marissa Michelle became her loyal friend. Linda even set a place for her at the dinner table. As you can imagine, her mother was concerned and took her to a psychiatrist.
"Everyone used to ask me, 'Who are you talking to?' Marissa Michelle, cant you see her?" Linda would reply. "She's right here beside me!"
She and Marissa Michelle spent much time together and if she were going out, "I had to ask her to come along."
At the time, Linda was prone to sleep walking and one night when she ventured out of the house, the police were called. When they found her, she said she was fine because Marissa Michelle was with her. Then when they returned home, the car door was closed leaving the little spirit inside and Linda panicked.
"I was upset when we got home and they closed the door on her," she said. "They thought I was crazy."
It was not long before other spirits showed up to see Linda as well.
"People sat on the end of my bed," she said adding that Marissa Michelle told her not to worry. "She told me they were looking after me, so I wasn't scared anymore."
When Linda was 11 years old, her family moved to Australia.
"Marissa Michelle told me she couldn't go with me," she said. "She had to go and help another child."
It was a sad day for Linda but it was time to leave her ghostly friend behind. In Australia they lived on a huge sheep farm and were dirt poor. Linda found herself ostracized by other children her age because her parents could not even afford the right uniform for her to wear at school. The other children taunted her constantly by doing such things as flinging ink from their inkwells on her white blouse and pulling her hair. And whenever she'd come home in a mess, it gave her mother another opportunity to beat her.
But somehow she got through it and at 15 years old, she learned that she had been adopted. She ended up meeting her biological mother and also learned that she had siblings that she did not meet until she was 18.
Psychic Family
Meeting her mother opened her eyes as to where her innate psychic abilities may have come from. Some years later, the truth of her heritage was revealed.
In 1983, "my mom asked, 'Are you doing readings yet?' I never spoke to her about it so how did she know?"
To Linda's utmost surprise her mom replied, "Your great grandmother was one of England's leading psychic."
She also learned that her father was somewhat psychic as well.
"It would have been nice to have grown up with them," she said wistfully.
When Linda was in her teens, the family moved to England. She went on to study nursing at University Hospital in St. James, Leeds and eventually became an operating nurse in neurosurgery. As an attending nurse before this, however, she made use of her psychic abilities by teaching her patients how to heal themselves through the power of the mind. Because of her past experience communicating with a departed spirit, she was also better able to understand when one of her patients went into cardiac arrest.
She had often sat with the man, talk or played chess with him and over time became good friends. Unlike today, she said nurses in the '60s and '70s were assigned specific patients and they spent much time with them tending to their needs.
When he arrested, other medical personnel swooped in to help him while she stood in the background as what was called a 'runner,' someone who could run for whatever the attending doctors might need as they attempted to resuscitate him. The man did survive and about a month later, he asked Linda, "Why did you look so frightened. I was sitting on the curtain rail and I was waving at you! You looked so frightened and I was happy."
He added that he had seen Linda run to get something as well. Startled by his words, Linda asked, "How did you get up on the curtain rail?" but the man had no idea. However, he did say that he saw the 'light' and was ready to go into it but his brother who had already died appeared and put his hand up.
"No, not yet," he said.
"It was the first time I had heard about a near death experience," Linda explained adding that such things were not discussed in medical circles back then. However, she already knew that people survive death because of her ability to see and communicate with spirits.
Linda later married, got into the habit of meditating daily and began teaching yoga.
"My ex-husband used to call me 'Voodoo Mama," she recalled with a laugh but on a more serious note, she added that she tended to hide her psychic abilities from the outside world.
"I tried to be someone else."
By this she meant that she tried to fit into the 'normal' and 'expected' image of a wife and all round person but it just wasn't enough to satisfy her soul.
"I lived as society dictated," she said, because you want to fit in."
She even attended various churches hoping to find one where she felt comfortable but that did not work either.
"I realized that I did not live as 'authentically' as I should." What she really wanted was to feel "one with myself and be in a state of bliss knowing there is a higher purpose – a higher sense of love – a divinity."
After coming to Canada, Linda enrolled at Sheridan College in Oakville, Ontario to study Wellness Education. She spent many years working in the field of oncology and palliative care. She then went on to take a number of certificate courses in various holistic modalities.
In 1990, she finally found her true calling when she founded the Touch of Energy center in Hamilton, Ontario where she began teaching mediation and yoga. She explained that the meditation is taught on the 'spiritual/angelic side.
"There are classes just in silence, with music, with movement and with affirmations," she said adding that people don't need to worry about trying to sit in some uncomfortable yoga position. While in meditation, she can also work with the charkas – to use the energy to balance the body physically and spiritually.
Today, the center is located on Locke Street and her services have expanded to include such alternative holistic therapies as, aromatherapy, therapeutic touch, wellness education classes and laughter yoga. She is a also a Holistic Practitioner at the Hamilton Wellness Centre on Upper James Street in Hamilton where she provides such services as transformational hypnosis, Indian head massage, reflexology and Laughter Yoga. The grand opening of the center was just two weeks ago.
Reiki, she explained, is done over clothing. She touches the energy points on the body and can "feel blockages. She uses the "universal healing power" to manipulate the energy, to draw out negative energy and balance the body. She knows when she comes up against a blockage of energy because she will feel a "tingling vibration in my hands."
Unlike some Reiki practitioners, Linda also "taps into the spirit world" and if a client is being sent a message, she will relate it to them. This is not something that can be forced she said. It just happens sometimes. It is so impromptu; she noted that she has had spirits come to her even while she's been driving.
"They want to tell you right away," she said adding that she sends them away.
After a car crash seven years ago, Linda decided to learn hypnosis and is now certified by the National Guild of Hypnosis, Inc as a Master Hypnotist. She explained that transformational hypnosis involves "learning your goals and purpose in life" in an effort to determine a person's "authentic self" – something that she struggled so hard with herself. She will also regress a person but only if it serves a purpose such as going back to a specific point in one's life where there may have been a life-changing event. Under hypnosis, Linda can also introduce people to their guides and angels.
"I use my own angels to direct me in my hypnosis work."
Spiritual Guidance from Angels
Linda has now come full circle with her life and abilities. As well as her other alternative healing modalities, she also offers spiritual guidance from her angels.
"Four or five primary angels" are still present in her life, she said but added there are many other angels as well who also communicate with her. They speak most often, she noted, by whispering in her ear but can also relate messages through automatic writing and dreams.
Linda also offers angel workshops called Angel Whispers using the name Lilyana to bring messages of love, hope and courage to others who may be struggling along their life path. She also teaches people how to hear and communicate with angels, and how to understand their messages. To learn more about Angel Whispers, email 4energy@sympatico.ca or call 905.389.3395.
Linda also utilizes her ability to hear the whispers of the angels when she volunteers at local hospitals. In this way, she can relate messages to patients who need it most, especially those that are palliative and/or in chronic care.As well, she has been a volunteer for over six years with the Wellwood Resource Center in Hamilton, where she uses her skills as a Reiki teacher to assist those in need.
On another note
, Linda said she currently lives in a house that is over 100 years old. She used to have a resident spirit by the name of Norma, who was actually no trouble to her. However, as soon as Linda got a cat, Norma promptly left. She obviously did not like cats. Some time afterward, Linda took the cat to a vet for a check-up and learned that it had a microchip implanted. The owner was found, the cat returned and Norma still did not come back. Hopefully, this incident prompted her to find the light.
Stories: Children & Angels
Talking To My Angel
Angels & Children
If you would like to comments on this story, please
email me. Your comments just might be included
in the next newsletter!
IN THE NEWS



Black-Eyed People
Who are they and Where do they come from?



More and more, we're hearing about folks who have run into what has become known as the black-eyed people. But just who they are or where they come from remains a mystery.

Those who have seen or had interactions with these beings most often feel they are not human and in fact, may be evil. Folks also speak of a feeling of dread and that these people seem like aliens or even demons.

Missy was sitting in a Starbucks when she first saw a black-eyed person. The first thing that struck her were the eyes "blacker than black, no white at all… As I looked in his eyes, I somehow knew that was not a human soul occupying that body… and I felt that he knew that I knew that he was not human."

An apartment manager in Portland, Oregon opened her door one day to find a teenager with black eyes staring back at her.

"I could not look him straight in the eyes," she said. "I felt like I was about to die."

She slammed the door because she felt such an all-consuming dread and it is a good thing she did. It seems black eyed people cannot enter your home or even your car without your permission.

Another woman was at home and in bed reading one night when she heard knocking on her door. When she peeked out a window, she saw two children. Then when she opened the window and asked them why they were out so late at night, they simply replied, "Let us in," claiming they needed to use the bathroom.

The woman was not only surprised that such young children would be out at that hour, but why did they want to enter a stranger's house… and why were their eyes pitch black?

"I got the feeling of evil and unhappiness," she said. "It surrounded me. It was horrible."

There are many, many similar stories from everyday folks who claim to have seen these black-eyed people. One was even with a man in an elevator. However, when he saw the security tape, he was completely alone!

Who or even what these being are still remains a mystery but thanks to our strong human instincts, folks have lived to tell their stories. For those who haven't we may never know their fate.

Black-Eyed Kids

More on the Black-Eyed People




Time Traveler in Chapman Film?

Filmmaker George Clarke spotted something strange in behind the scenes footage of a Charlie Chapman's 1920's film, The Circus. Watch the clip and you will see a woman talking on a cell phone!

Ghostly Photo from Execution Site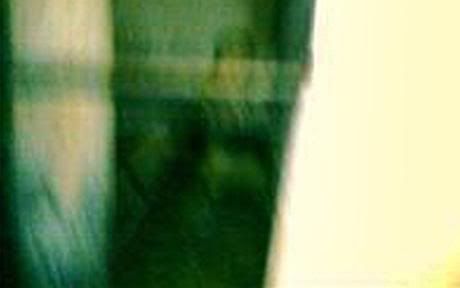 Highwaymen, murderers and thieves were once hanged inside a Nottingham's former Galleries of Justice that is now a museum. Many paranormal phenomena have been reported here, including flying orbs, strange smells and rattling keys. Now a woman who visited the site has captured what appears to be a ghostly image that was taken in the former dungeon.
Christine Spice said it looks like "an eerie mass of white, like an evil male figure. The feeling of evil was so overwhelming. Once outside we looked at the photo and could see a white glow like a huge threatening aura," she said.
There is also what appears to be a child in period dress.
Are Ghosts using Cell Phones?
Phil Hayes, a paranormal investigator with Paranormal Research UK says he's hearing more and more about ghosts attempting to contact the living by using cell phones. In fact, he said the incidents have increased by 43 percent in the last four years.
"There is evidence to suggest that ghosts can use phones to communicate, with reports of people receiving phone calls from deceased relatives," the Sun quoted Hayes as saying.
Most commonly, a person picking up such a call will hear "heavy static, and the voice sounds faint and distant." And in nine out of 10 such incidents, the phone 's caller ID will show "withheld number" or "000000000000" on caller ID.
Shadow Ghost Upstairs revealed on Video

October is Busy Month for UFOs
The months of October and into November have brought many reports of huge numbers of folks seeing UFOs over major metropolitan areas. The most outstanding has to be the sighting of several of them appearing in broad daylight over New York City.
In the last newsletter, I noted retired NORAD Officer Stanley A. Fulham and his prediction that there would be mass sightings over a number of cities on October 13, 2010. Here are just a few of the sightings for October 2010.
UFOs Louisville, Kentucky, Oct. 9, 2010
UFOs over New York City – November 13, 2010
UFOs New Mexico – Oct. 14, 2010
UFOs Dublin, Ireland – Oct. 21, 2010
UFOs Montreal, Quebec– Oct. 22, 2010
UFO Montreal – October 22, 2010
UFOs Mexico – Oct. 22, 2010
UFOs Sofia, Bulgaria – Oct. 30, 2010
UFOs Calgary, Alberta – Oct. 30, 2010
UFOs Singapore – Oct. 31, 2010
UFOs Naples – Oct. 31, 2010
UFOs California – Oct. 31, 2010
UFOs over the UK
The Shape Shifter Phenomenon


Now here is something very strange. Some people claim that a race known as the Reptilians have infiltrated not only the political realm but also the media. What follows is a video purportedly showing one of these shape shifters that begin as appearing in human form but as the video shows, their reptilian features come out for all to see like this reporter on Fox 9.



For similar videos, go

HERE

.

Odd Signals emanate from New Planet



Shortly after the discovery of an habitable planet dubbed Gliese 581g, which was announced on September 29, 2010 by Steven Vogt, professor of astronomy and astrophysics at the University of California, and his colleague Paul Butler of the Carnegie Institution of Washington, an astronomer from Australia claimed to have detected "a suspicious pulse of light" emanating from the same area of the galaxy.

Astronomer Ragbir Bhathal, a scientist at the University of Western Sydney claimed to have detected the pulse back in December 2008.

"Whenever there's a clear night, I go up to the observatory and do a run on some of the celestial objects," astronomer Ragbir Bhathal told the U.K.'s Daily Mail. "Looking at one of these objects, we found this signal. We found this very sharp signal, sort of a laser lookalike thing, which is the sort of thing we're looking for – a very sharp spike. And that is what we found."

Bhathal is a member of the Australian chapter of SETI, a non-profit scientific organization that is dedicated to research, exploration and education in the field of astrobiology. Even so, most scientists are skeptical about Bhathal's claim.

"I know the scientist and when he first announced it, I asked him for the details, and he wouldn't send them to me," astronomer and SETI pioneer Frank Drake told SPACE.com. "I'm very suspicious."

Drake conducted the very first search for a signal indicating extraterrestrial life some 50 years ago when he worked on Project Ozma. He actually coined the term 'Drake Equation' used to calculate how many alien civilizations might be 'out there' and might communicate with us.
QUOTE OF THE MONTH
"Ghosts seem harder to please than we are; it is as though they haunted for haunting's sake -- much as we relive, brood and smolder over our pasts."
-ELIZABETH BOWEN, preface to The Second Ghost Book
---
Become an Established Author
What does it take to become an established author? There are
guidelines every writer must follow on the road to publishing,
as well as afterward. Learn the tips & tricks to success. Check out this informative e-book that will save you both time and money
Here.
---
My News
1)
Glimpses 2: (it could happen to you!)
Reviews:
UFO Digest
,
Alternative-Read
,
Amazon.com
.
2) Playing With The Devil:
a true story of the horrid abuses suffered by 12 children in one Canadian family is also available at various sites. Available now at
Saga Books
and
Amazon.co.uk.
.
3)
Talking To My Angel
a lovely children's book for little ones who have experienced angel visitations and/or invisible friends is available
Here.
If you order now, you will also get a free Angel Pin!
4)
The Man With The Magic Spectacles< is temporarily unavailable.
5) Glimpses: True Stories of the Paranormal: Available by contacting me.



6)

Blood Vengeance: (Cold Case #4-183) Not of this World:

Now available from Saga Books and Amazon.com!

7)

Totally Scared: The Complete Book On Haunted Houses: Now available from Saga Books and soon on Amazon.com. For more information, please go Here



LINKS FOR YOU: (Enjoy!)
Toronto Ghosts
Ghosts & Hauntings Society
Afterworld
Disclose TV
Join My Paranormal Group on Ellen
Roswell Crash really Time Travelers?
Final Thoughts



Well, that just about wraps things up for this month. Hope you enjoyed reading this issue and I'll do my best to be back with more amazing stories and information next month. Until then remember:



Yesterday is history, tomorrow is a mystery. And today?
Today is a gift. That's why we call it the present."