Mary Scheib, 59, remembers talking with her beloved grandmother, Nonnie who passed over on October 8, 1957.
"My maternal grandmother lived with us until she passed a month before my 8th birthday," Mary explained. "I don't remember this incident but my brother said that I used to talk to my grandmother after she died."
This would be the first of many paranormal experiences that Mary would experience. Her brother also recalled the day Pope Pius XII died.
"I had gotten up and said to my mother that it was a shame about the Pope dying. She was startled, as nothing had been said on the television. She said I was just dreaming. A short time later, a news bulletin came on television announcing the Pope had died. My mother asked how I had known about it before the news was announced and I told her that Nonnie had told me about it early that morning."
Mary added that both her older brothers and her mother were "freaked out. My brother told me years later that I gave him a case of the creeps, since he heard me tell my mother about it that morning, and heard about it during the day (he attended a Catholic high school and they announced it over the PA)."
Shortly after this incident, her mother convinced her father to move the family to another house.
"She had talked to a child psychologist who said that the trauma obviously had gotten to me and that it might be good for my parents to get me out of that house."
It was not until Mary was about 10 that she would have her next paranormal experience.
"I was sitting in my 5th grade class when around 1:30 p.m., I felt a pain in my chest like severe heartburn. A little while later, I was called out of the classroom and saw my mother standing in the hall. Before she could say anything, I started crying and just said, 'Daddy's dead.' I just knew it (but I) don't know how. He had died at work of a massive heart attack."
Some years later, a female friend of Mary's was killed in a car crash but came back "a few times after she was killed, each time to warm me about something about to cause serious injury. Once she even warned me about a man who was following behind me along the curb in his car. I heard her voice behind me telling me to turn around and look right away, then after I did and saw the guy, she said to run."
Thanks to her ghostly friend, she had time to race home and call the police.
"I gave them a description of what he looked like but I didn't remember anything about the car, except that it was blue. Then I heard my friend's voice in my ear repeating a license plate number. I gave it to the police officer taking the report. About an hour later, he called and said that the description I gave fit a suspected rapist the police had been trying to pick up, and the license was for a stolen car."
In March 2001, Mary learned that her brother Nick who was terminally ill had left the house intending to commit suicide. The police refused to investigate until he had gone missing for 24 hours so Mary and her significant other went out looking for him.
"Finally around 11:30 p.m. I said out loud, 'you have to tell me where you are. I won't go home until I find you.' All of a sudden I knew where to look. Sure enough, he parked his car near a field in the outskirts of town and had started to go into the field where he shot himself."
And of course, her brother has come back as well.
"Since then, he's showed up here at the house on a few occasions. About six weeks after his death, I fell and broke my shoulder. I had taken some days off work, as I was in tremendous physical pain (as well as still being distraught over his death). I was lying in the bed and hadn't taken anything for pain yet, so I know it wasn't a drug-induced hallucination. I had just asked out loud as I was crying, 'Why did you do it? Why did you leave without even saying goodbye?' As soon as the words were out of my mouth, I felt someone sit on the edge of my bed. I looked and it was my brother, looking like he was about 21 rather 58, his age at death. He put his arms around me and said he hadn't said goodbye because he never left. He said that he would be around whenever I needed him and that everything was going to be okay. He kissed me on the cheek then disappeared. I thought I was flipping out but when I finally broke down and told my S.O. (significant other), he said that he hadn't wanted to say anything to upset me but he had seen my brother walking in the hall a few times after he died."
During Hurricane Katrina, Mary took a couple of pictures and they showed a smoky presence holding up a tree branch during the windstorm. Had it fallen, it would have struck the power line to her house.
"When the power company repairmen came out, they said that they didn't know how the line didn't break because the branch was that heavy. Everyone who saw the picture just said one thing- 'It's Nick!'"
Mary said she has experienced so many paranormal experiences over the years that "but for me to go into all of them would take me forever" and because of these, her faith in the power of love has grown.
"Let's just say that I believe that when there's a strong bond of love, it can surmount anything - even death. I don't believe in ghosts per se but I do believe that our souls live on in another plane after death, whether you call it heaven or what. I think that our loved ones do come back when they think we need help."
If you would like to comments on this story, please
email me. Your comments just might be included
in the next newsletter!
IN THE NEWS



Ghost captured on Shopping Center Camera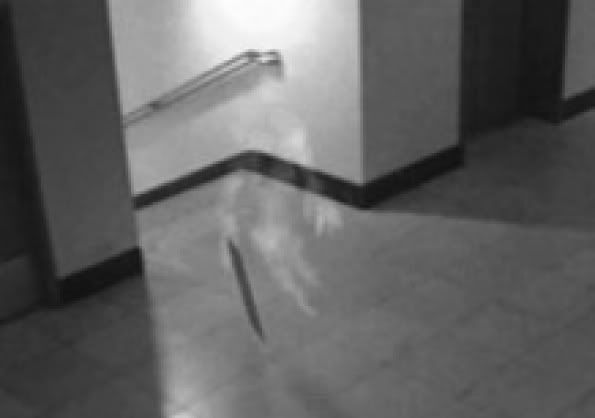 A ghostly image was captured on camera at Mid-Summer Place shopping mall in the United Kingdom. The Citizen leaked a short video of what appears to be a "transparent and floating white figure."
The ghost appears to be holding a black object, perhaps a stick, sword or even an umbrella.
"If you look closely you can even see its fingers and even its bones," said a source who claimed to be part of the CCTV department.
The figure seems to "disappear through a wall" and in another the specter appears to be wearing a black mask or black glasses.
"It looks far too detailed to be a trick of the light. I was pretty scared when I saw it – I wouldn't like to be wandering about in that area at night," said the source adding that the mall was built on former farmland.
Recently, I discovered that rural folks often buried family members right on their property. Perhaps that is the case here.
To see this ghost go to www.miltonkeynes.co.uk and click on the Midsummer Place Ghost.
Devil's Face appears on Bathroom Tile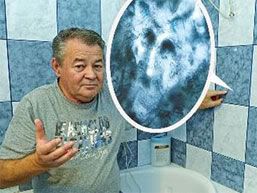 The Croatian Times has reported that Laszlo Csrefko was in the process of renovating a bathroom in his Budapest, Hungary home when the face of what appears to be a devil appeared on one of the tiles.
His wife, Andrea went ran screaming from the shower when she first spotted it.
"I was naked coming out of the shower and I could suddenly see his [the devil's] eyes staring into me," she said.
The image was not there when the tiles were placed and now it cannot be wiped off.
"It just appeared overnight and nothing can move it," Laszlo said adding that "the room is always ice cold no matter how high we turn the heating up…"
Needless to say, they don't use that bathroom anymore and are calling in an exorcist.
New Paranormal show called
'Surviving a Haunting'
A new paranormal television program entitled Surviving a Haunting will focus on people who have experienced this type of phenomenon. Hamilton, Ohio's The Journal notes that the show "aims to help people who believe they have been haunted…" and live in West Chester Township.
Already, two dozen people are interested in taking part in the pilot, which will be filmed by Dean Miuccio from Warm 98 Radio. Miuccio is a member of the Northern Kentucky Paranormal Society.
"We already shot one woman who lost her son three years ago," he said. "She believes her son is haunting her house - not in a bad way - but is causing things to move from one area of the house to another."


Pooch on Couch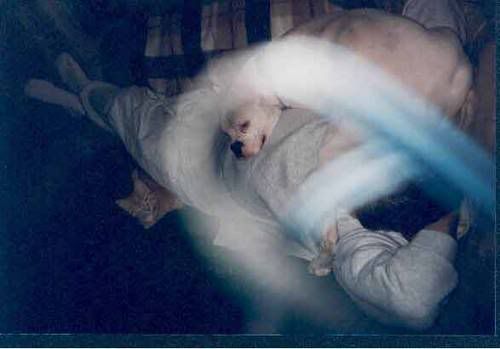 This photo was taken of a pet on the couch that seems to include what looks like a vortex. The house where the photo was captured is 225 years old and located in Middleburg, Virginia. The resident claims unexplained noises have been heard and other pictures contained orbs.
About.com Paranormal Photos

Another Ghost caught on Video
The Sun in the United Kingdom has reported that a spirit appeared on video at the Wolfe Pub in Penrith, Cumbria. It seemed to hover in the bar for about 30 seconds and then took off.
"At 18 minutes past midnight the pub was in darkness," explained pub owner, Andrew, as he watched the video footage. "I was about to turn it off when my mate spotted something strange. On the screen a glowing shape came down from the ceiling into the lounge and floated around the room. At one point, it looked as though it were polishing tables, it seemed to pulse and then boom, it then shot off upwards through the wall and ceiling."
Interestingly, when a man named Andrew who runs the pub told travel agents next door what had happened, they said their security cameras had captured ghostly activity as well. Footage from Thomas Cook Travel showed a computer mouse moving by itself across a desk. Then as the office is bathed in "a soft light" the computer monitor turns on. Then a large sign fell from the shop's front window.
It is believed that the building used to be the site of a funeral parlor. Andrew noted that his Patterdale terrier, Dudley, is frightened when passing through the pub's doors.
""I don't believe in ghosts but this has really freaked me out. I've looked at a still of this thing as it shoots off and I'm sure that I can see a face."
Retired NORAD Officer Predicts
Worldwide UFO Display


Retired A new book called Challenges of Change written by a retired Air Force officer named Stanley A. Fulham predicts that a massive UFO display will take place over the world's principal cities on October 13 2010.
Because such a display would cause fear and panic, Fulham added that there will be no direct contact with us. The purpose of this action, he said, was to lead mankind into accepting the "alien reality and technologies for the removal of poisonous gases from the earth's atmosphere in 2015, if not sooner."
Drawing on his own military experience with UFOs dating back to WW1 and later with NORAD, he claims to know that aliens do exist and the military has lied to the public about it. And it seems that for more than 10 years, the author has communicated with a group of entities known as the Transcendors – "43,000 very old souls" – who provided advice and information through an internationally known channeler. From various sessions, Fulham notes that urgent global challenges were related including earth changes, international terrorism, worldwide financial collapse and the deteriorating environment (specifically CO2 pollution of the atmosphere). The Transcendors said CO2 is rising at the rate of 1 per cent annually and at 'critical mass,' mankind cannot survive.
One startling revelation claims al Qaeda has a dirty nuclear bomb and weapons of mass destruction but faces a moral quandary over "containment of collateral damages."
For more information, see the author's web site and videos of him discussing his research HERE.



Astrological Map found on
Ceiling of Egyptian Tomb



It has long been believed that ancient Egyptians knew the heavens like the back of their hands. Now the Supreme Council of Antiquities in Egypt has announced that brightly painted astrological scenes have been discovered on the ceiling of an ancient Egyptian tomb.

The scenes depict the sky goddess, Nut in the burial chamber of a Nubian priest in the el-Asasif area on the west bank of Luxor.

"The chamber was found at the bottom of an eight meter deep burial shaft," said Zahi Hawass, secretary general of the council.

The scenes were painted in blue, yellow and other dominant color with Nut welcoming, with raised arms, the body of the deceased. The priest name was Karakhamun and he lived during the 25th dynasty (755-656 B.C.). This tomb was discovered some years ago but it collapsed into the desert sands. It was rediscovered in 2006 by an Egyptian-American expedition.

These videos of alien crafts in China have everyone in the UFO community buzzing:

UFO shuts down Airport in China in July 2010

Another shuts down Airport this Month
QUOTE OF THE MONTH
" Behind every man now alive stand 30 ghosts, for that is the ratio by which the dead outnumber the living."
- ARTHUR C. CLARKE, 2001: A Space Odyssey
---
Become an Established Author
What does it take to become an established author? There are
guidelines every writer must follow on the road to publishing,
as well as afterward. Learn the tips & tricks to success. Check out this informative e-book that will save you both time and money
Here.
---
My News
1)
Glimpses 2: (it could happen to you!)
Reviews:
UFO Digest
,
Alternative-Read
,
Amazon.com
.
2)
Playing With The Devil:
a true story of the horrid abuses suffered by 12 children in one Canadian family is also available at various sites. Available now at
Saga Books
and
Amazon.co.uk.
.
3)
Talking To My Angel
a lovely children's book for little ones who have experienced angel visitations and/or invisible friends is available
Here.
If you order now, you will also get a free Angel Pin!
4)
The Man With The Magic Spectacles< is temporarily unavailable.
5) Glimpses: True Stories of the Paranormal: Available by contacting me.

6) Blood Vengeance: (Cold Case #4-183) Not of this World: Now available from Saga Books and Amazon.com!
7) Totally Scared: The Complete Book on Haunted Houses: This manuscript has been accepted by Saga Books. Please visit the promo site Here to learn the release date.



LINKS FOR YOU: (Enjoy!)
New Episode of Paranormal Pets
Scariest Poltergeist Activity
Giant Mothership Approaching Earth
Lawyer possessed by Client's Ghost
Join My Paranormal Group on Ellen
Final Thoughts



Well, that just about wraps things up for this month. Hope you enjoyed reading this issue and I'll do my best to be back with more amazing stories and information next month. Until then remember:



Yesterday is history, tomorrow is a mystery. And today?
Today is a gift. That's why we call it the present."


- B. Olatunji



Take care,
Martha



Need Leads?

Get all you'll ever need

Here!