A writing group can be a wonderful source of inspiration and support for you. Depending upon the type of group, you may be allowed to read your work and have other people comment with their ideas, suggestions and general critiques. This type of feedback can greatly improve your writing skills.
Such groups may also present writing prompts where members each write for five or 10 minutes on a various topic, word, phrase, etc. These types of exercises are key to helping you expand your mind and creativity. As well, group members may break up into smaller groups to concentrate on a particular writing topic or genre.
Most cities, towns and communities have at least one writing group and it is highly advised that you join it. If there is more than one, find the one that is right for you. Be aware that personal differences can get in the way of constructive criticisms. If you find this happens in a particular group, you are better off joining another one.
There are also on-line writing groups and Boomers Write plans to be one of them. Every Sunday from 2 to 4 p.m., I will be in the Chat Room to talk with you about writing and offer any assistance that I can. Of course, you can also converse with others there too!
Need A Writing Spark?



Generating ideas for your next story has never been this easy! WriteSparks!™ generates over 10 *million* story sparkers for you! See for yourself - take this software for a free test drive today.



Visit

BOOMERVILLE USA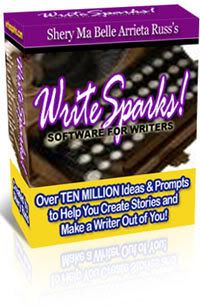 PS: Take WriteSparks™ for a test drive! Download the free version, WriteSparks™ Lite! This version does not expire. You can even give it away! 10,500+ writers have downloaded this software since May 2003. (The program is PC-based and will NOT run on a Mac!)